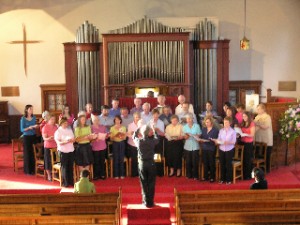 The Jordanhill Community Choir is a friendly group of some forty people from the Church, the local community, and further afield. Together, they are prepared to put in a little hard work, and in the process they enjoy social, physical and emotional benefits – to name some! They are motivated by the love of singing together, whilst bringing pleasure to their audiences and raising money for good causes. Established in 1996 as a Choir that rehearses fortnightly on Thursdays at 7.30 p.m. Each year we sing a Christmas Carol Service and, in addition, take part in Combined Choirs events, singing music ranging from established Classics to more modern and popular items, both religious and non-religious. The Choir is open to all, there are no auditions, and new Members will be made very welcome.
To help you to decide whether the Jordanhill Community Choir might be for you, you are welcome to come along and join us for a rehearsal at any time.
Simply complete the Application Form below to indicate your interest
Jordanhill Community Choir
Tiffany Vong, Director of Music, Jordanhill Parish Church, 28 Woodend Drive, Glasgow, G13 1QT.
Email: tbc