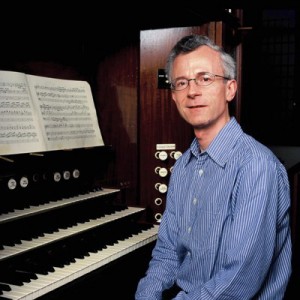 In Jordanhill Parish Church, we are fortunate in having had Alan Tavener as Director of Music since his arrival in Scotland in 1980. A former organ scholar at Brasenose College in Oxford, Alan was appointed as the first ever Director of Music at the University of Strathclyde. In 1982, along with his wife Rebecca, he co-founded Cappella Nova, which now enjoys an international reputation as a leading chamber choir specialising in historic and contemporary Scottish music. In addition to working with professional musicians, Alan has gained a reputation for helping the amateurs to achieve far more than they dreamt possible – and all with good humour!
The organ in the Church is just over 100 years old and is recognised by many as a good example of the work of T.C. Lewis, whose work also includes the organ in the Kelvingrove Art Gallery. Initially built for a large house outside Helensburgh, it was installed in Jordanhill Parish Church in 1923. A CD of the organ, played by Alan Tavener, is available from the Church Office.
Church Choir
Jordanhill Parish Church has always been notable for its "singing" congregation. The Church Choir exists primarily to encourage this to be the case, especially in the light of new congregational music that is regularly introduced during worship on a Sunday morning. Whilst on occasion making a simple musical contribution to the worship in its own right, the Choir first and foremost supports the Congregation, through providing a confident lead in various sung part of the services.
The Choir Members meet in the Church Hall half an hour before the start of the service, under the direction of the Director of Music to reacquaint themselves with the more familiar hymns, as well as getting to know anything that is relatively new to the Congregation. This has the added advantage of leaving a few minutes for a wee chat, before adjourning to the Sanctuary – an important aspect of this close-knit group, which always warmly welcomes a new recruit!
Jordanhill Community Choir
The Jordanhill Community Choir is a friendly group of some forty people from the Church, the local community, and further afield. Together, they are prepared to put in a little hard work, and in the process they enjoy social, physical and emotional benefits – to name some! They are motivated by the love of singing together, whilst bringing pleasure to their audiences and raising money for good causes. Established in 1996 as a Choir that rehearses fortnightly on Thursdays at 7.30 p.m. Each year we sing a Christmas Carol Service and, in addition, take part in Combined Choirs events, singing music ranging from established Classics to more modern and popular items, both religious and non-religious. The Choir is open to all, there are no auditions, and new Members will be made very welcome.
To help you to decide whether the Jordanhill Community Choir might be for you, you are welcome to come along and join us for a rehearsal at any time. No audition required!
Jordanhill Liturgical Choir
The Jordanhill Liturgical Choir is an ecumenical choir. Formed in 2011, the Choir comprises members of the three Jordanhill churches (Church of Scotland, Scottish Episcopal and Roman Catholic) and neighbouring parishes, together with others of no church affiliation, united by an interest in exploring old and new liturgical music traditions. The Choir rehearses fortnightly on Wednesdays at 7.30 p.m., and leads services of Advent Carols, Compline and Vespers in various local churches and further afield, featuring music from Gregorian, Anglican, Gelineau, Taize and Iona repertories. Whilst a basic level of music reading is desirable, an enthusiasm for and an empathy with the Choir's aims are just as important, and new Members will be made very welcome.
To help you to decide whether the Jordanhill Liturgical Choir might be for you, you are welcome to come along and join us for a rehearsal at any time.
Handbell Ringers
Jordanhill Parish Church Handbell Ringers was formed in 1990. In addition to playing from time to time during Sunday worship, we give concerts to many different groups. Our music ranges from hymn tunes to folk, classical music to music from musicals and films, from to popular and also music specially composed for bells.
Rehearsals, between late August and May, are weekly on Sunday evenings at 7.15 p.m. For further information about the Handbell Ringers, follow the link here. For all up-to-date information, concerts, etc., you can find us on Facebook or contact Ruth Cantlay: ruthcantlay@gmail.com