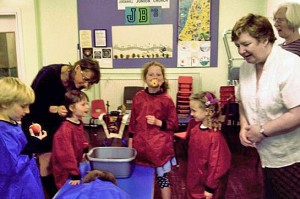 Junior Church meets every Sunday at 10.30 a.m.
Usually we participate in the first part of morning worship, before having some fun in our respective age groups.
Currently we have four sections within the Junior Church.
Beginners
The Beginners is for those who have left crèche but, as yet, have not started Primary School.
JBs (Jordanhill Bairns)
For children between Primary 1 and Primary 3, inclusive.
JJs (Jordanhill Juniors)
Crafts! Songs! Food!—all grounded in the teaching of the gospel. This group is open to all young people from P4 to P7 (old and new faces are welcome!). Each year we tend to divide our programme into four sections, frequently allowing the young people to feed back some of what they have been learning to the Congregation by taking the first part of morning worship.
JTs (Jordanhill Tweens and Teens)
More than an excuse to drink hot chocolate in the morning the Tweens and Teens is a group for those in P7 plus. Looking at bible characters and key biblical themes we seek to understand what it means to grow together as young Christians.