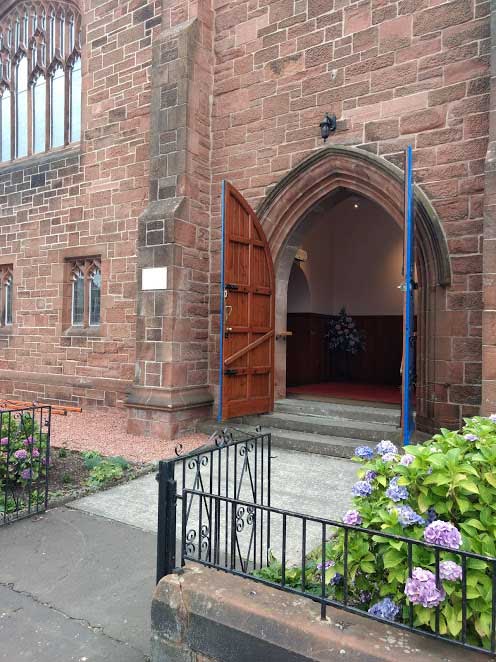 Welcome to the website for Jordanhill Parish Church of Scotland in the west end of Glasgow.
Our congregation provides a place where we can explore what it means to be a Christian in the world of today. We are a congregation of all ages, and different stages on our journey of faith. We enjoy being part of the wider Jordanhill community and always seek to support community life. We aim to be a welcoming and inclusive congregation. All are welcome to come and worship with us and be part of any of the organisations that meet in the halls.
To read the Sunday Reflection and prayers please click here
For this week's Intimations and notices please click here
If you would like to contribute to the ongoing work of Jordanhill Parish Church,
then please click this link:
Jordanhill Parish Church Donations
COVID-19 – updated 05/09/20

Dear Friends,
We are delighted to be opening our doors for Sunday worship once again and look forward to welcoming you into the church. The service will be held at 10.30 am and will last for 30 minutes, with the doors being open from 10 am.
In order to keep everyone as safe as possible a number of restrictions that you know about before you. These are listed here. (Returning To Church)
We are aware that not everyone will be able to join us but the podcast and YouTube recordings will continue to be produced, and the service may be livestreamed, so if you are not able to come to church, you can still join us from the comfort and safety of your own home.
Before coming to church, if you have health concerns or have been shielding please consider, for your own health and that of others, whether or not you should attend. If you are unwell and would like a member of the Pastoral Care team to be in touch with you please contact the office.
While these changes will clearly impinge on the way we worship, we hope that we can all enjoy the fellowship of coming together to explore our faith in the context of the 'new normal'. You will be assured of a warm welcome.
Church Halls
The halls are open for JOSS, Jordanhill Out of School Service. At present we are unable to take or confirm any other hall bookings until we receive sector specific guidance from the Scottish Government and the Church of Scotland. We hope to receive more information sometime soon.
Church Office
The office is open, but would request that enquiries be made mainly by email and phone at present. Tel: 0141-959-2496 or email jordchurch@btconnect.com
Jordanhill Watch and community support
A network of support has been developed for anyone who is housebound or isolating, this is coordinated through the Jordanhill Watch Facebook Group in conjunction with other local community groups and Community Council. If you are in need of support during this time we can help put you in touch with them.
Friends, this is a challenging time for us all. As new information comes to light we will try and respond as best we can. As a faith community we will keep in touch with one another albeit in a slightly different way over the coming weeks and months. As we all navigate our way through this time please be assured of my prayers for you and those closest to you.
With all best wishes,
Bruce
Rev Bruce H Sinclair
(Minister)