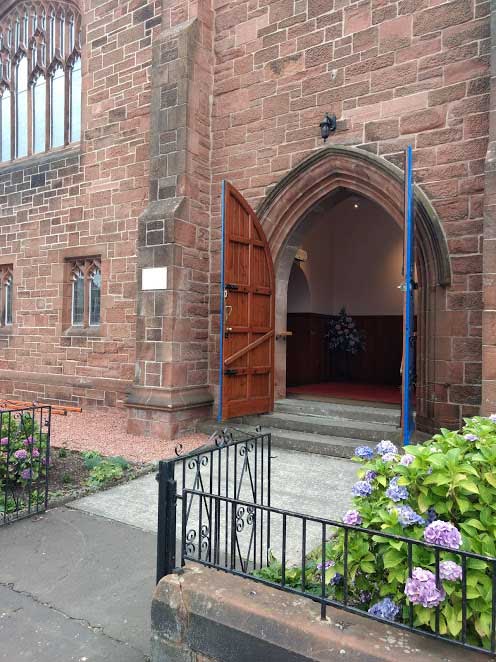 Welcome to the website for Jordanhill Parish Church of Scotland in the west end of Glasgow.
Our congregation provides a place where we can explore what it means to be a Christian in the world of today. We are a congregation of all ages, and different stages on our journey of faith. We enjoy being part of the wider Jordanhill community and always seek to support community life. We aim to be a welcoming and inclusive congregation. All are welcome to come and worship with us and be part of any of the organisations that meet in the halls.
(n.b. some organisations are currently restricted due to Scottish Government COVID-19 regulations and Church of Scotland guidance, this is to safeguard everyone's health and wellbeing – stay safe!)
Funeral for Margaret Fleming – Thursday 29th July 2021.
This livestream link for the funeral of Margaret Fleming will be live from 2pm (Church) and 3.30pm (Crematorium) on Thursday 29th July 2021. Please click this link to be directed to the livestream. CLICK HERE
Sunday Worship
Sunday services have now resumed in the church at 10.30am each week. There will continue to be a recorded service available on the church YouTube Channel or Anchor.FM podcast channel whilst we still have restricted seating numbers. The Church services are subject to various COVID restrictions; seating is limited to 50 people, masks must be worn, there is no singing (sorry!). To book your seat please contact the church office and leave a message by Friday at 2pm. (any unsuccessful bookings will be contacted)
Church Office and Halls – These are closed to the public, apart from Jordanhill Out of School Service providing care for children of key-workers, and groups that have applied and been approved by the Kirk Session.
This week's Sunday Worship
To read the Sunday Reflection and prayers please click here
For this week's Intimations and notices please click here
If you would like to contribute to the ongoing work of Jordanhill Parish Church,
then please click this link:
Jordanhill Parish Church Donations
---
Dear Friends,
Jordanhill Parish Church is once again open for worship, however we are subject to ongoing restrictions and guidance from the Scottish Government. Worship and reflections can also be found on our YouTube page and our Podcast channel on Anchor.FM. The weekly services can be accessed by clicking the links above on this home page.
Should you wish a paper copy of the service then please contact the minister and this can be sent to you.
With all best wishes,
Bruce
Rev Bruce H Sinclair
(Minister)
Church Office
The office is open normally Monday to Friday (hours tbc), but at this time would request that enquiries be made mainly by email and phone at present. Tel: 0141-959-2496 or email jordchurch@btconnect.com