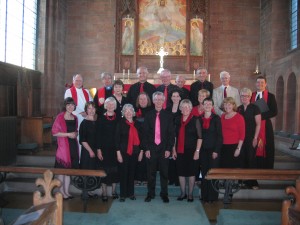 The Jordanhill Liturgical Choir is a new, ecumenical choir.  Formed in 2011, the Choir comprises Members of the three Jordanhill churches (Church of Scotland, Scottish Episcopal and Roman Catholic) and neighbouring parishes, together with others of no church affiliation, united by an interest in exploring old and new liturgical music traditions.  The Choir rehearses fortnightly on Thursdays at 7.30 p.m., and leads services of Advent Carols, Compline and Vespers in various local churches and further afield, featuring music from Gregorian, Anglican, Gelineau, Taize and Iona repertories. Whilst a basic level of music reading is desirable, an enthusiasm for and an empathy with the Choir's aims are just as important, and new Members will be made very welcome.
To help you to decide whether the Jordanhill Liturgical Choir might be for you, you are welcome to come along and join us for a rehearsal at any time.
Simply complete the Application Form below to indicate your interest.